By Gary:
There is no question in my mind that Sun Records was the greatest influence on Rock and Roll.  Chess, Specialty, Atlantic and so on all played a part, but in my opinion, Sun was THE Label.  So I will try to deal with the Sun record stars.
We have already talked about Johnny Cash, so let's go with the undisputed King of Rockabilly:
Carl Lee Perkins
Born April 9, 1932
in Tiptonville, Tennessee
Died January 19, 1998 Jacksonville, Tennessee
Videos:
Blue Suede Shoes / 1956 Perry Como Show /
.
Matchbox / 1957 Tex Ritter Show /
 Johnny Cash/Carl Perkins/Eric Clapton same song /
 .
.
Boppin' the Blues / 1982 with the Blasters, it Rocks /
.
Boppin' the Blues as Carl performed it at Town Hall Party many years ago. The cat could really play guitar too.
.
Early footage of Carl Perkins with Elvis, Buddy Holly and young Johnny Cash
Honey Don't with Son Greg 1981 England /
An artist that really never was given the credit for the great contribution he made to Rock and Roll.  Call it Rockabilly if you wish but in 1956 it was just Rock and Roll.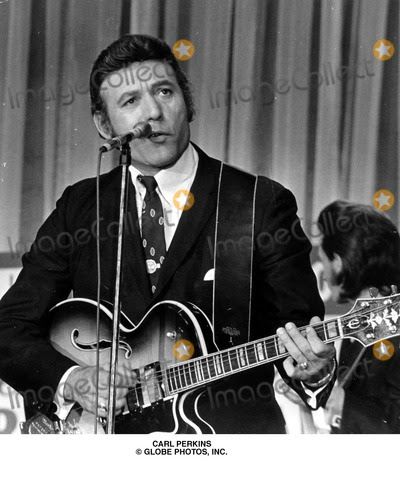 —
Rockabilly pioneer Carl Perkins lent a helping hand when the two currents that defined Southern music at mid-century – Rhythm & Rlues and Country & Western – came together as Rock and Roll.
Carl was a native Tennessean who'd grown up in a very poor share cropping family near Tiptonville, a farming community in Lake County, north of Memphis. Perkins picked cotton in the fields and learned how to play guitar from a black field hand named John Westbrook.
He grew up listening to Country, Southern Gospel and the chants from the black field workers.  He listened to the Grand Ole Opry and his father fashioned him a guitar from a cigar box and broomstick, they where that poor.  His first real guitar was a Gene Autry, very used and old, but they got it for a couple of dollars. Now I remember an interview with Carl when he talked about Uncle John.  That would be John Westbrook a Black Field worker in his 60's.  He had a battered acoustic guitar, but that's where Carl got all of those great licks from.
Beginnings as a performer
He began performing in the Forties with the Perkins Brothers Band, which included siblings Jay and Clayton. Carl was heavily influenced by bluegrass legend Bill Monroe – "Some of those old songs [of his] are so close to rockabilly it's scary," he said – and was right on track with Presley in the synthesis of Rock and Roll from homegrown elements.
Perkins and his brother Jay had their first paying job (in tips) as entertainers at the "CottonBoll" tavern on Highway 45 some twelve miles south of Jackson, starting on Wednesday nights during late 1946. Carl was only 14 years old. One of the songs they played was an uptempo, country blues shuffle version of Bill Monroe's "Blue Moon of Kentucky."
Free drinks were one of the perks of playing in a tavern, and Carl drank four beers that first night. Within a month Carl and Jay began playing Friday and Saturday nights at the Sand Ditch tavern near the western boundary of Jackson. Both places were the scene of occasional fights, and both of the Perkins Brothers gained a reputation as fighters.

Over the next 10 to 12 years the Perkins brothers played on WTJS/AM in Jackson, as members of the Tennessee Ramblers.

Perkins had day jobs during most of these early years, working first at picking cotton, then at Day's Dairy in Malesus, then at a mattress factory and in a battery plant. He then worked as a pan greaser for the Colonial Baking Company from 1951 through 1952.
During January 1953, Perkins married a woman he had known for a number of years, Valda Crider. When his job at the bakery was reduced to part-time, Valda, who had her own job, encouraged Carl to begin working the taverns full-time. He began playing six nights a week. Late the same year he added W.S. "Fluke" Holland to the band as a drummer, who had not any previous experience as a musician but had a good sense of rhythm.
Malcolm Yelvington remembered the Perkins brothers from 1953 when they played in Covington, TN. He noted that Carl had a very unusual blues-like style all his own.
During July 1954, Perkins and his wife heard a new release of "Blue Moon of Kentucky" by Elvis Presley, Scotty Moore and Bill Black on the radio. Valda exclaimed, "Listen! They play like y'all! It sounds like you!". After recording the take of the song that was released, Presley exclaimed, "That sounds like Carl Perkins!".   As "Blue Moon of Kentucky" faded out, Carl said, "There's a man in Memphis who understands what we're doing. I need to go see him.".

SUN Records
After flipping for Presley's recording of Bill Monroe's "Blue Moon of Kentucky", Perkins made the trip to Memphis in August 1954 with the hope of auditioning for Sam Phillips, founder of Sun Records. He was told to write more songs and stay in touch…
Perkins successfully auditioned for Sam Phillips at Sun Records during early October 1954. "Movie Magg" and "Turn Around" were released on the Phillips-owned Flip label March 19, 1955, with "Turn Around" becoming a regional success.
Movie Magg
With "Turn Around" getting airplay across the South and Southwest, Carl Perkins was booked to appear along with Elvis Presley at theaters in Marianna and West Memphis, Arkansas. Commenting on the audience reaction to both Presley and himself Perkins said, "When I'd jump around they'd scream some, but they were gettin' ready for him [Elvis]. It was like TNT, man, it just exploded. All of a sudden the world was wrapped up in rock."
Another Perkins' tune, "Gone Gone Gone", released in October 1955 by Sun, was also a regional success. It was backed by the more traditional "Let The Juke Box Keep On Playing," complete with fiddle, "Western Boogie" bass line, steel guitar and weepy vocal.
Gone, Gone, Gone (1955)

.
That same autumn, Perkins wrote "Blue Suede Shoes" after seeing a dancer in a tavern get angry with his date for scuffing up his blue suede shoes.
Several weeks later, on December 19, 1955, Perkins and his band recorded the song during a session at Sun Studio in Memphis. Phillips suggested changes to the lyrics ("Go, cat, go") and the band changed the end of the song to a boogie vamp.
Blue Suede Shoes (1955)
.
Honey Don't
.
Presley left Sun for a larger opportunity with RCA in November, and on December 19, 1955, Phillips, who had begun recording Perkins in late 1954, told Perkins, "Carl Perkins, you're my rockabilly cat now.". 
Released on January 1, 1956, "Blue Suede Shoes" was a massive chart success. In the United States, it scored #1 on Billboard magazine's country music charts (the only #1 success he would have) and #2 on Billboard's Best Sellers popular music chart. On March 17, Perkins became the first country artist to score #3 on the rhythm & blues charts. That night, Perkins performed the song during his television debut on ABC-TV's Ozark Jubilee (Presley performed it for the second time that same night on CBS-TV's Stage Show; he'd first sung it on the program on February 11).
'Blue Suede Shoes' was a tune so full of hot licks and hipster cool that Presley himself was moved to cover it, but in deference to his friendship with Carl, he waited until Carl's version had peaked to release his own, which reached #20.
"Blue Suede Shoes" became an anthem for a rebellious postwar generation, embodying its unrest and pride as succinctly as any James Dean film," wrote music historian Art Fein.
—

Here is some good old stompin' Rockabilly
The Birth of Rock and Roll
.
Here is a little tune from Carl Perkins and Van Morrison – who would of thought of that combination?  It has that great High Heel Sneakers Riff.
Carl Perkins and Van Morrison – Sittin' On Top of the World
.
—

The accident
Fate intervened unkindly to halt the momentum that had been building with "Blue Suede Shoes". After playing a show in Norfolk, Virginia during March 21, 1956, the Perkins Brothers Band headed to New York City for March 24 television appearances on the Ed Sullivan Show and the  Perry Como Show.
Shortly before sunrise on March 22 near Dover, Delaware, Stuart Pinkham (aka Richard Stuart and Poor Richard) assumed duties as driver. After hitting the back of a pickup truck, Carl's Chrysler Imperial went into a ditch of water about a foot deep, and Carl was lying face down in the water.
Drummer Holland rolled Carl over, saving him from drowning. He had suffered a fractured skull, 3 fractured vertebrae in his neck, a severe concussion, a broken collar bone, and lacerations all over his body in the crash. Carl remained unconscious for an entire day.
The driver of the pickup truck, Thomas Phillips, a 40-year old farmer, died when he was thrown into the steering wheel of his truck. Carl's brother Jay had a fractured neck along with severe internal injuries.
On March 23,1956 Bill Black, Scotty Moore and D.J. Fontana visited Perkins on their way to New York to appear with Presley the next day. D.J. Fontana recalled Perkins saying, "Of all the people, I looked up and there you guys are. You looked like a bunch of angels coming to see me.". Black told him, "Hey man, Elvis sends his love," and lit a cigarette for him, even though the patient in the next bed was in an oxygen tent. A week later, Perkins was given a telegram from Presley (which had arrived on the 23rd), wishing him a speedy recovery.
After recovering, Perkins returned home to Memphis, where Sam Phillips gave him a brand-new Cadillac for having scored Sun Records' first million-seller. As music historian Colin Escott has noted, "Sun Records had never really made money until 'Blue Suede Shoes,' not even when Presley began selling in respectable quantities."
Sam Philips had planned to surprise Perkins with a gold record on The Perry Como Show. "Shoes" had already sold more than 500,000 copies by March 22. Now, while Carl recuperated from the accident, "Blue Suede Shoes" scored number one on most popular, R&B, and country regional music charts. It also scored number two on the Billboard Hot 100 and country charts.
Elvis Presley's "Heartbreak Hotel" scored number one on the pop and country charts, while "Shoes" did better than "Heartbreak" on the R&B charts. By mid-April, more than one million copies of "Blue Suede Shoes" had been sold.
On April 3, while still recuperating in Jackson, Perkins would see Presley perform "Blue Suede Shoes" on his first Milton Berle Show appearance, which was his third performance of the song on national television. He also made references to it twice during an appearance on The Steve Allen Show. Although his version became more famous than Perkins', it only scored #20 on Billboard's popular music chart.

Return to recording and touring
Perkins returned to live performances on April 21, 1956 beginning with an appearance in Beaumont, Texas with the "Big D Jamboree" tour. Before resuming touring, Sam Phillips arranged a recording session at Sun with Ed Cisco filling in for the still-recuperating brother Jay. By mid-April, "Dixie Fried", "Put Your Cat Clothes On", "Right String, Wrong Yo-Yo", "You Can't Make Love to Somebody", "Everybody's Trying to Be My Baby", and "That Don't Move Me" had been recorded.
SUN #249 I'm Sorry, I'm Not Sorry / Dixie Fried (1956)
.
In "Put Your Cat Clothes On", listen to the piano; I guess we all know who was playing for Carl that day, "The Killer", a very young Jerry Lee Lewis.
Put Your Cat Clothes On
.
Here's a little bit of a Rattlesnake for you.  "Put Your Cat Clothes On" was never released until the 70's and I do not know why. 
This same song done by Brian Setzer from Rockabilly Riot the SUN Collection…
Brian Setzer and Stray Cats – Put Your Cat Clothes On
.
Carl Perkins –Everybodys Trying To Be My Baby / Sun LP 1225 "Teen Beat"/3/1956 
.
Beginning during early summer, Perkins was paid $1,000 to play just two songs a night on the extended tour of "Top Stars of '56." Other performers on the tour were Chuck Berry and Frankie Lymon and the Teenagers.
When Perkins and the group entered the stage in Columbia, S.C., he was appalled to see a teenager with a bleeding chin pressed against the stage by the crowd. During the first guitar intermission of "Honey Don't" they were waved off stage and into a vacant dressing room behind a double line of police officers. Perkins was quoted as saying, "It was dangerous. Lot of kids got hurt. There was a lot of rioting going on, just crazy, man! The music drove 'em insane.". 
Appalled by what he had seen and experienced, Perkins left the tour. Sun issued more Perkins songs in 1956: "Boppin' the Blues"/"All Mama's Children" (Sun 243), the B side co-written with Johnny Cash, "Dixie Fried"/"I'm Sorry, I'm Not Sorry" (Sun 249).
Boppin The Blues (1956)
.
All Mama's Children
.
"Boppin' the Blues" reached #47 on the Cash Box pop singles chart, #9 on the Billboard country and western chart, and # 70 on the Billboard Top 100 chart.
For almost unexplainable reasons, Carl would never again crack the Top Forty. In all likelihood, his Dixie-Fried sound was too "authentic" for what was fast becoming a watered-down teen market.
"Matchbox"/"Your True Love" (Sun 261) came out in February 1957.  
Matchbox
.
Your True Love
—
The Million Dollar Quartet
"Matchbox" is considered a rockabilly classic. The day it was recorded, December 4, 1956, Elvis Presley visited the studio and Perkins, Jerry Lee Lewis and Elvis Presley (who'd already moved from Sun to RCA) held an impromptu jam session at that Sun Studio. (Johnny Cash stuck around only long enough to be photographed with the others.)
Along with Johnny Cash (who left early), Perkins, Jerry Lee Lewis and Presley spent more than an hour singing gospel, country and rhythm-and-blues songs while a tape rolled. The foursome of that casual session were dubbed The Million Dollar Quartet by a local newspaper the next day, although the recording of this summit meeting would not be officially released on CD in until 1990.


On February 2, 1957, Perkins again appeared on Ozark Jubilee, singing "Matchbox" and "Blue Suede Shoes". He also made at least two appearances on Town Hall Party singing both songs. Those performances were included in the Western Ranch Dance Party series filmed and distributed by Screen Gems. in Compton, Calif. in 1957
The 1957 film Jamboree included a Perkins performance of "Glad All Over" (not to be confused with The Dave Clark Five song of the same name), that ran 1:55. "Glad All Over," written by Aaron Schroeder, Sid Tepper, and Roy Bennett, was released by Sun (#267) in January 1958, backed with "Lend Me Your Comb".
 Glad All Over
.
Lend Me Your Comb
.
After this Carl moved to Columbia Records.  I really only want to deal with the Sun Recordings.
One might say that he did not have a lot of charted hits; true.  You can say that about Jerry Lee too, but the impact that Carl had on the industry and future bands (e.g. The Beatles) would be immeasurable.
Like Jerry Lee, they where recording when Rock and Roll was considered "dangerous" and they broke the ground and set the rules for many to come.  His songs are still enjoyed and played.  I had the good fortune to attend what was considered the concert of the Nineties, Ronnie Hawkins 60th Birthday Party at Massey Hall in Toronto.  Both Carl and Jerry Lee where there.  Believe me, it was as good as the critics and everyone says it was.

Although a lot of the Sun Recordings, like Matchbox, did not go high on the chart, it is considered a Rock and Roll Standard today.  In 1998 the world lost the King of Rockabilly.

– Gary
–o–