Gary: While doing this project (I have been at it since early December) I have found something strange regarding my memory.  I seem to be able to remember my High School years a little easier than my years when I was employed, the early sixties!
This would be a very eventful year for me, I would purchase a 1961 Chevrolet Impala Convertible V/8 with 3000 miles on it and I would get engaged for the first time.  Both would have an effect on each other.
I was still employed at Texaco Canada, I still purchased my clothes from a Mens Shop called Brill and Bunn (I did get to know Jack Brill), they carried the great Cambridge Custom Line of tailor-made Suits. 
I met a girl at work name Jackie McPherson and we would date for some time; we would eventually get engaged, then 1 1/2 years later we would be unengaged.
Now at the same time in the year 1961, Russ was working on his Computing Career while playing gigs at night and on weekends.

Now just to remind everyone, Russ and I would not be friends for another 48 years.  If we had known each other in 1961, we had two different life styles and I doubt that we would have been friends.
The Club scene was just starting; Toronto's Beau Marks ("Clap your Hands") would be at Yonge Street's Le Coq' Dor Tavern.
Ronnie Hawkins and the Hawks (the new Hawks with Robbie Robertson) would be at the Friar's Tavern on Yonge.
I was now 21, of legal age to drink! I took my dates to Club's to see the live groups.  It is hard to explain to my granddaughter for example, just what this period was like.  If you loved the music as I did, it was Utopia and it would continue and get even larger over the next few years.
I purchase my 61 Chevy…
and also get a steady girlfriend who I would become engaged to
… all in the same year.
I had finished 1 year of night school and was working in "Data Processing" and it was alive.
Now what do I remember from that year 1961:
The USSR would put the first man into space, Major Yuri Gagarin
The United States would rocket Alan B. Shepard for 15 minutes down the Atlantic Range.
The space race is on and they would start to build the Berlin Wall
.
On the Big Screen in 1961:
Best Actor / Maximilian Schell / Judgement at Nuremberg / 
Best Actress / Sophia Loren / Two Women /
Best Picture (my favourite) / West Side Story
Best Rock and Roll Movie / Blue Hawaii /
Other movies I enjoyed:
The Guns of Navarone / 
And new on the small screen:
There were certainly not A Lot of 1961 cars I liked, but there were a few:
1961 Chevrolet Impala /
(put Gary's car in – again??)
1961 Corvette / 
1961 Jaguar XKE / 
What was happening with music in 1961:
Well we went dance crazy, The Twist, The Pony, The Fly, Bristol Stomp and the Majestic.
A man by the name of Robert Zimmerman was being listened to in New York City.  He would become the Bard of our time and write some of the most prolific lyrics ever, but we knew him as "Bob Dylan".
The person who I consider the "Greatest Producer" ever would launch his own label and would become a force to be reckoned with.  He would create the "Wall of Sound" and of course I am talking about Phil Spector.
A Nostalgia wave would start and the music of the Fifties would be in demand again.
New Artist's on the Scene:
Del Shannon / 
Gene Pitney / 
.
And many more, but let's just get to some of the MUSIC of 1961…
Baby Sittin' Boogie /

Buzz Clifford 
Dedicated to the One I Love / Baby It's You /

The Shirelles 
Pony Time/ Let's Twist Again / The Fly /

Chubby Checker
Spanish Harlem/ Stand by Me /

Ben E. King
I Wanna Love my Life Away /

Gene Pitney 
Mother-In-Law /

Ernie K. Doe 
Runaway / Hat's off to Larry /

Del Shannon 
Tonight I Fell in Love / The Lion Sleeps Tonight /

The Tokens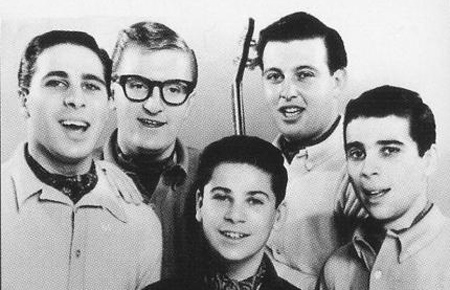 Tossin' and Turnin' /

Bobby Lewis 
Hello Mary Lou / Travellin' Man (the first Rock Video)/

Ricky Nelson
Big Boss Man /

Jimmy Reed
I Like it Like That/

Chris Kenner
Pretty Little Angel Eyes / Under the Moon of Love /

Curtis Lee & the Halos (Phil Spector Production)
My True Story /

The Jive Five
Crying / Candy Man / Running Scared /

Roy Orbison 
Little Sister /

(Marie's the Name) His Latest Flame

/ Can't Help Falling in Love/

Elvis
The Peppermint Twist /

Joey Dee & the Starliters
Happy Birthday, Sweet Sixteen /

Neil Sedaka
Runaround Sue / The Wanderer /

Dion
This Time /

Troy Shondell
Dum Dum / Fool No. 1 /

Brenda Lee
Let the Four Winds Blow /

Fats Domino
It will Stand /

The Showmen
I Love how you Love Me /

The Paris Sisters (Phil Spector Production)
INSTRUMENTALS:
I was, and still am, a great Instrumental fan.  In 1961, instrumentals were disappearing fast, but three made an impression.
Last Night /

The Mar-Keys
Yes, I am well aware of how many songs I missed, but I am limited so I just put in the songs that I remember purchasing or making an impression.
The new year 1962, would end my engagement and guess what, I bought another car.
–o–