Gary: At 73 years of age, I decided to take up the guitar, I have a Taylor GS Mini, an Epiphone 339 ebony electric and a teacher, so who knows where this will go.
I own a lot of books, yes books on Music and Rock and Roll, it's history and artists.  I have decided to go through one book from A to Z and write about all of the songs and artist's that only made the Billboard Top 40 "Once".  The authority will be Joel Whitburn's Top 40 hits 1955 to 2000 7th Edition.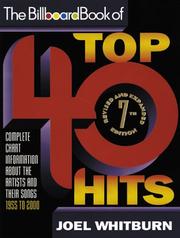 Now being as old as I am you know I will not go much further than the 70's, Sorry. 
Some of the Billboard listings just did not fit in our blog and if they were your favourites, sorry I just could not list every one as there are 26 letters in the alphabet and I'm not getting any younger and I have just started
# 24 BB / Jan/63 /

Remember Then

/
Easybeats/The

/ Sydney Australia /
# 16 BB / Apr/67 /

Friday on my Mind

/
Echoes/The

/ Brooklyn NY /
# 12 / Mar/61 /

Baby Blue

/
Edison Lighthouse

/ Studio group from England /
#5 BB / Feb/70 /

Love Grows ( where my Rosemary goes)
Edsels/The

/ Youngstown Ohio /
# 21 BB / June/61 /

Rama Lama Ding Dong

/
Edwards/Bobby

/

Alabama

/
# 11 BB / Oct/61/ You're the Reason /
Edwards/Jonathan

/

Minnesota

/
# 17 BB / Oct/55 /

At my front Door

/
Elegants/The

/ Staten Island NY /
# 1 BB / July/58 / (great song)

Little Star

/
Elledge/Jimmy

/ Nashville /
# 22 BB / Dec/61 /

Funny how Time slips away

/
Epps/Preston

/ Oakland Calif /
# 14 BB / June/59 /

Bongo Rock

/
Equals/The

/ British Jamaican /
# 32 BB / Sept/68 /

Baby,come back

/ 
Every Mothers' Son

/ NY City /
# 6 BB / May/67 /

Come on down to my Boat

/
Exciters/The

/ Jamaica NY /
# 4 BB / Dec/62 /

Tell Him

/
–o–