Another unknown Artist.  A few years ago I was in North Myrtle Beach South Carolina at Fat Harold's Beach Club, the Shagging Club.  
Unlike the British interpretation of the word, this club features the Dance "The Shag".   They played a song I had not heard, but really liked.  I went over and asked the DJ what was the name and who was the Artist.  He told me and my response was, really, you mean the guy from 1959, he said the very same. 
This artist again was never Billboard Top 40 famous, but wrote great music, worked with Lee Hazlewood, was liked by Dick Clark and I guess was considered the first "Black Rockabilly" artist. 
He was born in Ft. Worth Texas, another place I enjoy very much, I guess he was never a huge star, but I must admit, I enjoy all of his music and his guitar playing.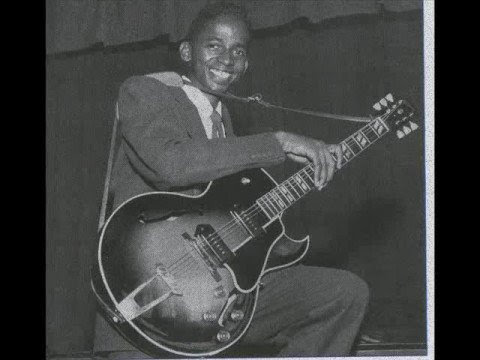 Videos:
.
.
Music:
1959 / truly a classic song /

Linda Lu
.
1959 / B Side /

Red Sails in the Sunset
.
1959 / T A Blues or

Teenager Blues
.
.
1964 / Re-recording by Phil Spector of

Linda Lu

, but not really that much different
.
1966 / With King Curtis /

Help Me (get the feeling)
.
Ray Sharpe with the Blue Wailers /

Oh my baby's gone

/

That's the way I feel
.
Very early recording of

Monkey's Uncle
.
The Song I heard in South Carolina /

Boat Dock
and

Mama Talk to your daughter
.
Ray Sharpe (born February 8, 1938, Fort Worth, Texas, United States) is an American rhythm & blues and rockabilly singer, guitarist, and songwriter.
He grew up influenced by country as well as blues music, and many of his recordings are classed as rockabilly – he was described by one record producer as "the greatest white-sounding black dude ever". His recording career started in Phoenix, Arizona in 1958, when Lee Hazlewood produced his single, "That's the Way I Feel" / "Oh, My Baby's Gone". His second record, "Linda Lu" / "Monkey's Uncle" – both sides written by Sharpe, produced by Hazlewood, and featuring Duane Eddy and Al Casey on guitars – was much more successful, reaching No. 46 on the Billboard Hot 100 in 1959. "Linda Lu" has subsequently been covered by many artists, including the Rolling Stones, The Kingsmen, Johnny Kidd And The Pirates, Flying Burrito Brothers, and Tom Jones.
Subsequent single releases on a variety of record labels were less successful. These included recordings made in 1966 with King Curtis, which featured Jimi Hendrix on guitar. However, Sharpe's songs have been recorded by acts ranging from Roy Head and the Traits to Neil Young and J. B. Hutto, and he has continued to release records, as well as performing regularly in the Fort Worth area.
——-
Legend has it that black rockabilly performer Ray Sharpe once had plans to form a duo with his friend, white rockabilly performer and fellow Texan Ronnie Dawson. They were going to call themselves the Oreo Cookies. The more you listen to Sharpe, the more you wish it would have happened (Reportedly, the idea was scrapped when the two young rockers realized that the rest of the world might not see the humour in it that they did…), reason being that it's amazing how much these two guys influenced each other's styles.
Though he's known for the classic roadhouse staple "Linda Lu," the Fort Worth native's swan song is a chicken walkin' opus entitled "Monkey's Uncle" which Dawson himself recorded on a recent album, after years of levelling the house with it during his stage show. Produced by the always fascinating Lee Hazlewood, it's no wonder that the damn thing sounded so cool when Sharpe first cut it in '58. Recorded in Phoenix, he was able to use the members of Duane Eddy's studio backing band.
Mixing with like-minded rockers Al Casey, Sanford Clark, and of course, Duane Eddy, Sharpe help define that twangy-heavy thread of rock 'n' roll that Hazlewood helped to mastermind. As a sidebar to rock and roll history, that's Duane Eddy, the King of Twang, playing the now famous riff on the classic "Linda Lu". Ray's songs have been recorded by acts ranging from Neil Young and Rickie Van Shelton to swamp guitarist Danny James and bottleneck master J.B. Hutto, while his entire approach was a huge influence on Southwest rocker Bobby Fuller. Truly an enigma, the great Texan seems to simultaneously embrace all the ingredients of rock 'n' roll's magic potion with similar aplomb, a rare feat since day one, but one that makes him a living example of the real thing. Right on, Ray