By Gary:
I have decided to write about some artists that never received fame and fortune, but had an impact on Rock and Roll in the Early Days. 
This artist left us just over a year ago.  He was in a car accident and then a month later he took a turn for the worse with a subdural hematoma.
I can remember in 1956 purchasing his first record and wearing it out.  He was on the Hot 100. King Records thought he would be the next Elvis, but that was not to be.
He is a member of the Rockabilly Hall of Fame and just a good old Texas boy, like Buddy Knox, Buddy Holly and so on.
When he was in High School he played High School events, but one was shut down because of sexually suggestive on-stage movements; remember it was 1955.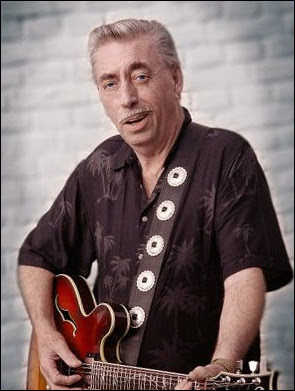 (January 16, 1939 – September 16, 2013)
Video:
If I had me a Woman
/
Live in Amsterdam /
.
Say So

/ also in Amsterdam /
.
Live in Amsterdam /

Keep on Rockin'

/
.
Side Track Mama

/ Good visual presentation of his life /
.
 .
Music:
.
.
.
.
.
 —
This will give you a little cross section of Mac's Music, he was just moderately famous, but to get inducted into the Rockabilly Hall of Fame, he must of
He was an early Rocker for me, but it was just called Rock and Roll in 1956.
 —
Wesley Erwin "Mac" Curtis, Jr. (January 16, 1939 – September 16, 2013) was an American rockabilly musician. Born in Fort Worth, Texas, Curtis began playing guitar at the age of 12, entering local talent competitions.
He moved to Weatherford in 1954, and while there he formed a band with two classmates, Jim and Ken Galbraith.
They played at school events, but during one of the events, their show was shut down due to sexually suggestive on-stage movements.
Instead, the group played locally, and in 1955 they were offered a deal with King Records, who released their debut single, "If I Had Me a Woman".
Soon after Alan Freed heard the group and invited them to play on his Christmas radio special in 1956.
He returned to Weatherford to finish school in 1957, and then became a disc jockey in Seoul, Korea after joining the military.
Upon his return in 1960, he continued work as a DJ in the South, and released a few albums; his 1968 release, The Sunshine Man, hit #35 on the U.S. Country albums chart.
As rockabilly grew in popularity in the 1970s, he began recording with Ray Campi and signed to European label Rollin Rock; his career took off there in the 1980s and 1990s. He was later elected to the Rockabilly Hall of Fame.

He died on September 16, 2013, following injuries received in a car accident.
–o–