I just finished a post on one of my favourite subject, instrumental groups ( a lost form of music) and really focused on one forgotten group the Royaltones or Royal Tones, I've seen it both ways. 
I have decided just to put all of the groups, that maybe had one hit or no hits in a post.  I definitely bought their recordings, but they remain basically unknown. 
Here are some of those groups and songs…
This first group came out of Tacoma Washington and in 1959 and had a # 36 hit that year.  I think they still play in the Washington area.
.
Video:
The Wailers / much older /

Tall Cool One

/
.
Music:
Tall Cool One

/ 1959 / # 36
.
Wailin'

/ 1960 / did not chart
.
They made many records but only one cracked the Billboard Top 40
.
The fifties in the Northwest USA were an interesting melting pot. Clubs such as the Black and Tan, Birdland, and the Evergreen Ballroom routinely brought black R&B acts that came to town, and Ray Charles was based in the area.
Rockabilly had made its presence known, and Elvis Presley was huge. It was out of this environment that five teenagers from Tacoma, Washington formed the Fabulous Wailers.
The Boys from Tacoma hit nationally while still in high school. "Tall Cool One" reached the national charts at #36 in June of 1959. Fame called the band to the East Coast for some appearances, including the Alan Freed Show and American Bandstand. Turning down high- powered management, they returned to the Northwest to dominate the local entertainment scene.As with any band with a ten year longevity, membership changed in the Wailers. Kent Morrill (keyboards, lead vocals) was there for the band's entire history. Buck Ormsby (bass, guitar) joined immediately after "Tall Cool One" and lasted the duration. Over the years they had several guitar players: Rich Dangel, John Greek, Neil Anderson and Denny Weaver. The band's original drummer was Mike Burk and later Dave Roland. Mark Marush played tenor sax, and was replaced by Ron Gardner who also sang lead and developed into a compelling front man. Frustrated about the way they were handled (or mishandled) by the major record labels, Ormsby, Morrill and Rockin' Robin Roberts formed their own "indie" record label "Etiquette".Thus, their material was self-recorded and self-promoted. They produced a number of other acts, and Etiquette has left a fine history of some of the Northwest's most gritty recordings.
The Original Wailers
Kent Morrill – piano, organ, vocals
Richard Dangel – guitar
Buck Ormsby – bass, background, vocals
Kim Eggers – Sax, Vocals
Russ Kammerer / Gail Harris – Drums
Featured Vocals – Penny Haydon-Anderson,
Kay Rogers-Allotia, Mary Ellen Jerkovich-Hanson
1958-1960
John Greek – Guitar, Trumpet
Kent Morrill – keyboards, vocals
Richard Dangel – Guitar
Mike Burk – Drums
Mark Marush – tenor sax
Rockin' Robin Roberts – vocals
1960-1962
Kent Morrill, Buck Ormsby, Richard Dangel, Mike Burk, Mark Marush
Rockin' Robin Roberts records Louie Loui in '61
1st Etiquette Records 45 single
1962-1964
Kent Morrill, Buck Ormsby, Ron Gardner, Mike Burk, Richard Dangel
1964-1967
Kent Morrill, Buck Ormsby, Nell Anderson, Ron Gardner, Dave Roland
1967-1969
Kent Morrill, Buck Ormsby, Denny Weaver, Dave Roland, Rod Gardner
The Wailers were always experimenting and progressing musically. They had several fine vocalists, and with Rockin' Robin Roberts cut the definitive version of "Louie Louie". The band also featured singer Gail Harris. She was only 13 years old when she first sang with the Wailers, and eventually became a regular during the early sixties.
Audiences were so awed by the powerful performances by this group of musicians and singers that an album was produced called "The Wailers At The Castle" recorded live at the then famous Spanish Castle Ballroom this was the first record featuring The Wailers, Gail Harris, and Rockin' Robin Roberts All together.
They often toured and recorded with female back-up singers The Marshans thus emulating and updating the R&B revue/extravaganzas that had been so influential years earlier. Songs such as "Hang Up" and "Out of Our Tree" showed their abilities with mid-sixties "punk rock", but they were certainly as talented in any other musical sub-genre of that magical decade.
The Wailers are probably directly responsible for the 60's rock explosion in the Northwest. Paul Revere and the Raiders aspired to be as big as the Wailers. The Kingsmen had a hit with the Wailers / Rockin' Robin's arrangement of "Louie Louie". The Sonics were groomed and produced by the Wailers. The list goes on and on. Beginning in the late seventies and through the 80's The Wailers joined together for a number of successful reunion concerts. Today a new wave of interest and fans all over the world have enticed "The Boys from Tacoma" to once again pick up their instruments and play their rock 'n' roll. A new Wailers CD 'Cadillac to Mexico' was released on October 10, 2001. A 'Cadillac to Mexico' West Coast Tour followed.
The next group comes out of Richmond Virginia in 1956 and had a # 16 single in 1959
Music:
.
.
 THE ROCK-A-TEENS
The Rock-A-Teens were a youthful sextet from Richmond, Virginia, led by Vic Mizelle (vocals, guitar). The other members were Bobby "Boo" Walke (guitar), Bill Cook (guitar), Eddie Robinson (sax), Paul Dixon (bass) and Bill Smith (drums). They first opened for business during 1956 as high school band Boo Walke & the Rockets.
In 1959 they auditioned for George Donald McGraw, who owned a record shop in Salem, Virginia, and a record label, Mart Records, to which Mickey Hawks was contracted at the time. McGraw was impressed by the boys' own composition "Rock-A-Teen Boogie", a falsetto-refrained instrumental with one of rock's first midtune drum solos. Retitled "Woo-Hoo", it came out on Doran 3515 (a subsidiary of Mart) in August 1959, coupled with "Untrue", a vocal number. These first pressings on Doran credited the Rock-A-Teens as the writers of "Woo Hoo". However, none other than Arthur "Guitar Boogie" Smith sued the group for plagiarism, much to the confusion of the young boys. McGraw then said "I'll buy the song off you guys and that way they can't sue you". For a few hundred dollars, the song got a new owner. Unbeknownst to the group, McGraw struck a deal with Morris Levy at Roulette Records in New York to reissue the record for national distribution on Roulette 4192, now with composer credits on both sides going to G.D. McGraw.
"Woo-Hoo" entered the Billboard Hot 100 in October 1959 and had a 12-week run, peaking at # 16. Probably to the group's amazement, Roulette decided to follow this success by having them record an LP. One session in November 1959 proved not enough for a full album, so a second session was called for in early 1960. Meanwhile, Roulette released a follow-up single in December, again coupling an instrumental ("Twangy") with a vocal track ("Doggone It Baby"). The latter was a stupendous raver, with Mizelle really ripping it up, but it was lost on the B-side of "Twangy".
The LP "Woo Hoo" (Roulette SR-25109) was released in the spring of 1960 and contained seven vocal tracks and five instrumentals. Of the four tracks from the two singles, "Untrue" was omitted from the LP, as the group found it too bad for inclusion. The album (a total flop in terms of sales, but now an in-demand rarity) shows that the Rock-A-Teens' real forte was as a raw, attacking, garage rock band, almost a punk band, some 16 years before the genre became fashionable. Not all group members were equally competent, though. Mizelle and Walke had to teach Cook and Dixon over and over how to play certain chords.
Eventually, the Rock-A-Teens' enthusiastic rawness was probably their undoing, as the musical times were a-changing. By 1960, rock 'n' roll was becoming ever more streamlined and sophisticated. There were no further recordings, but the groups leaves a fine legacy, which has been reissued heavily, including some previously unissued tracks and alternates. For an overview see Terry Gordon's website at http://rcs.law.emory.edu/rcs/artists/r/rock2500.htm
The most complete overview (not mentioned by Gordon) is the CD "Woo-Hoo & Other Classics" on Sparkletone 99015 (34 tracks), but this is a bootleg, as are the CD's on BigTone and Lady Luck.
According to Wayne Jancik, in his "One Hit-Wonders" book, drummer Bill Smith went on to form the Bill Smith Combo, which had some releases on Chess in the early sixties. With all due respect, Wayne, I don't think this is correct. There was a Bill Smith Combo that included Gene Summers (Lonely/Heartbreak Hotel, Chess 1773), though I doubt if this is the same group that issued "Raunchy" on Chess 1780. I don't have the time right now to research this in depth. Perhaps other list members can tell us more.
The next group made it to # 44 in 1958.  The song was heavily promoted by Dick Clark on American Bandstand.
Video
1958 / Dick Clark

Saturday

Night show / The Green Mosquito
Music
1958 /

Green Mosquito

/ # 44 BB
.
1958 /

No Stoppin' this Boppin

/ did not chart
 .
The Tune Rockers song "The Green Mosquito" was a huge hit in 1958 leading to an appearance on Dick Clark's American Bandstand and national recognition. Boyhood friends from Eggertsville, the Tune Rockers made it all the way to #42 on the Top 100 in 1958 with "The Green Mosquito".
They toured and played numerous local shows including a WKBW Party event as co-headliners with teen idol Fabian. Songwriting royalties, credits disputes and lack of money all contributed to the band imploding not long after.
True rock pioneers, the Tune Rockers were the first legitimate band hailing from Buffalo, NY  to hit the charts.
I was a big fan of Tommy Shannon on WKBW Radio, but unfortunately, he was a powerful Disc Jockey that really to advantage of some great instrumental groups. 
I guess the first instrumental group would be the Russ Hallett Trio who wrote his theme song which eventually became "Wild Weekend" and Tom Shannon took all of the credit, but did nothing but have a partnership in the Recording Studio.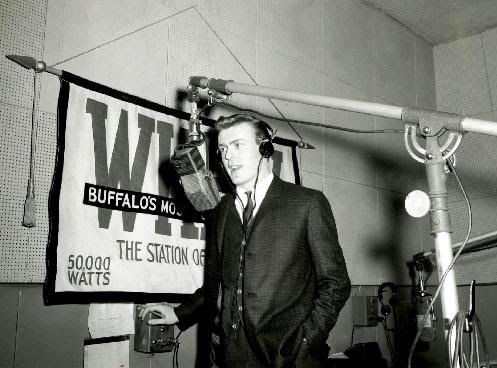 If you are so inclined everything you need to know is here http://www.colorradio.com/rebels.html it is very sad how people in power take advantage of young musicians, but read the link and it will verify what I am talking about.
This group was called the "Hot Toddy's" and the song was "Rockin' Crickets" and it climbed up to # 57 on Billboard in 1959.  Well, it really was Big John Little and the Rockers out of Ontario Canada and it was all stolen from them.
Music:
Rockin' Crickets

/ 1959 / # 57 BB by the "Hot – Toddys (the name would be changed many times)
.
Shakin' and a Stompin

/ B – Side
.
So to keep up with the same morally deprived disc jockey, Tommy Shannon, this group also never got paid, but he again got most of the credit.   The song was written by Russ Hallett and recorded by
The Rebels / The Buffalo Rebels / The Rockin' Rebels / and of course the Hot Toddys
.
You pick one, I've seen them all
I purchased the original record in 59/60 but it went to # 8 in 1963
Wild Weekend

/ 59/60 & 63, same group different names / # 8 BB in 1963
.
Donkey Walk

(I own it) was the follow up in 1960, did not chart.
.
The story of the Rockin' Rebels is one of rock & roll's longest-running mysteries with a pedigree that would do a private detective proud. Their story began when Buffalo, NY disc jockey Tom Shannon and his partner Phil Todaro wrote a theme song, "Wild Weekend," for Shannon's radio show.
The song — originally a vocal — became a local favorite with his listening audience, and the light bulb went on over his head when he was deluged with requests for a copy of a record that didn't exist.
While hosting a record hop, Shannon was approached by a local high school band on the bill, the Rebels, named after Duane Eddy's backing group.
The Rebels asked Shannon if they could play an instrumental version of his theme song. Shannon hadn't thought of the tune as an instrumental, but after hearing the group's version of it, he quickly booked them into a studio.
Released on Todaro and Shannon's own Marlee label in 1959, the record was a big hit regionally, kicking up enough noise to secure the band a spot on Dick Clark's American Bandstand.
It was at this point that Dick Clark told Tom Shannon it was unwise to continue calling the group by the same name as Duane Eddy's nationally known backing group, and on their next two Marlee releases, the group became known as the Buffalo Rebels.
By 1962, the original group had broken up and Shannon was in the army, stationed at Fort Dixon in New Jersey. During this time, another DJ (Syracuse, NY's Jimmy O'Brien) had started using the three-year-old record as the theme song for his show. This caught the ear of Swan Records president Bernie Binnick, who tracked down Shannon and struck a lease deal for the master. This time, the single hit the national charts, rising to the number eight spot on the national charts in early 1963.
But the story gets more interesting from here, as Todaro and Shannon found themselves with a hit record but no band to record the follow-up. Fortunately, the same time they had been cutting the (Buffalo) Rebels, they also released a 45 on their Shan-Todd label by a Canadian group called Big John Little & the Rockers.
Renamed the Hot Toddys, their "Rockin' Crickets" was originally released in March of 1959 and actually made the national charts, peaking out at number 57. It had a sound close enough to the Rebels to make it worthy of resuscitation as the follow-up to "Wild Weekend," while the vocal flipside ("Shakin' and Stompin'") was deemed out-dated and unusable.
So another local group, the Jesters, was pressed into service to contribute the flip, "Hully Gully Rock," and the subsequent album.
By now, Todaro's and Shannon's Rockin' Rebels project had been responsible for three national hits from just two records, the tracks themselves being made by three entirely separate bands who, in total, had worked under at least six different names.
Although the Jesters produced more Rockin' Rebels tracks than any of the other configurations, they were the only ones to not have a hit record to their credit.
And in one final, oddball addendum to this confusing story, Swan re-released "Wild Weekend" in 1966 and featured yet another group on the flipside. So in a minor footnote to rock history, Kathy Lynn & the Playboys' "Donkey Twine" became the last incarnation of the Rockin' Rebels on vinyl. At least for now, perhaps. After all (as we've just seen), you can't keep a great song and the American entrepreneurial spirit down for too long.
The information above is all about greed and the ugly part of the Music Business.
None of these groups were paid!
I will take a look at two Studio Groups that I enjoyed and purchased their records.  Neither of them charted top 40.
This is the first direct to disc record I ever purchased and Lincoln Mayorga & Ed Cobb were
Music:
1960 /

Brontosaurus Stomp

(l own and love this recording) #75 BB
.
.
.
The Piltdown Men 
were a rock and roll instrumental studio group from Hollywood, California, featuring two lead saxophones.
They were the brainchild of Ed Cobb and pianist Lincoln Mayorga of the Four Preps, and their records were issued on the Capitol label. Their name was inspired by the Piltdown Man hoax. In 1960, their tune "Brontosaurus Stomp", featuring saxophonists Scott Gordon and Jackie Kelso, guitarist Bob Bain, bassist Tommy Tedesco, drummer Alan Brenmanen, and Mayorga on piano, reached #75 on the Billboard Hot 100.[
They were most successful in the UK, where their hits were, beginning in 1960, "McDonald's Cave" (based on "Old McDonald Had a Farm", and originally the B-side of "Brontosaurus Stomp"), "Piltdown Rides Again" (based on Rossini's "William Tell Overture"), and (in celebration of the coincidental start of The Flintstones cartoon series on television) "Goodnight Mrs. Flintstone" (based on "Good Night Ladies" by E. P. Christy). They released no more records after "Night Surfin'" in 1962, produced by Nick Venet
A compilation LP called The Piltdown Men was released in the Netherlands on Capitol in 1981 and has been reissued several times. A CD compilation album was released on Ace in 1998, entitled The Piltdown Men Ride Again.
–o–