By Gary:
I knew I would eventually get to this group.  Not my favourite, not even close.  This is my wife's favourite group, so this is for her.  I will openly acknowledge their popularity, they were huge. 
They have sold in excess of 375 Million Records and at one time were one of Sweden's biggest industries.  Because of my wife, Birgit, I have seen the Broadway musical "Mama Mia" and we own the Movie DVD and I will admit I enjoyed both. 
I will be honest, I did like two of their songs "Take a Chance on Me" and "Does your mother know".  Their life was like a soap opera as they were all married to one another at one time.  The great voices of the two women and the writing and arranging of the two male members, made them a solid group.   They were absolute perfectionist's with their recordings and studio work.  Of course I am talking about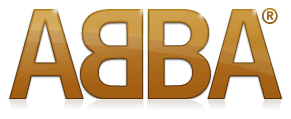 .
Does Your Mother know / 1979 Wembley /
.
Dancing Queen / Wembley 1979 /
.
Take a Chance on Me / 1979 Switzerland /
.
.
.
Music: (some of the songs)
1974 / Waterloo / # 6 BB # 1 in other countries
.
1974 / Honey Honey / # 27 BB
.
1975 / I Do, I Do, I Do / # 15 BB
.
.
1975 / Mama Mia / # 32 BB
.
1976 / Fernando / # 13 BB
.
1976 / Dancing Queen / # 1 BB
.
1977 / Knowing Me, Knowing You / # 14 BB
.
1977 / The Name of the Game / # 12 BB
.
1978 / Take a Chance on Me / # 3 BB
.
1979 / Does Your Mother Know / # 19 BB
.
1980 / The Winner takes All / # 8 BB
.
Easily the most commercially successful group of the 1970s, Abba became the focus of a revival in the early 1990s, when its Abba Gold topped charts around the world. Abba's whole-some image and buoyant, catchy records made the group international pop stars (Nelson Mandela once declared Abba his favourite pop group) and the second most profitable corporation on the Stockholm stock exchange. Ironically, it was their massive financial success that, according to group numbers, led to the death and kidnapping threats that prompted their disbanding in 1982.
Though Bjorn Ulvaeus and Benny Anderson's hook-laden singles ("Fernando" and "Money, Money, Money," 1976, "Knowing Me, Knowing You," 1977) often topped European charts, U.S. success was limited to several hit albums and three Top 10 singles: "Waterloo" (#6, 1974), "Dancing Queen" (#1, 1977), and "Take a Chance on Me" (#3, 1978).
Each member was a solo star in Sweden before Abba (an acronym for their first initials) coalesced in 1973. "Waterloo" won the prestigious Eurovision Song Contest in 1974, a year after they began recording in English.
Abba tours were limited initially because of the difficulty of re-creating the group's densely layered, richly produced sound live. Nevertheless, Abba mounted its first international tour in 1977 and appeared in the U.S. two years later.
Long-time live-in lovers Benny and Anni-Frid (who both have children from teenage marriages) were wed in 1978; they divorced in 1981. Two years earlier, Bjorn and Agnetha's marriage of six years had also ended in divorce. Abba's public image, however, remained harmonious. By then the group had sold an estimated 100 million records worldwide.
In 1982 Phil Collins produced Frida's post-Abba solo debut, Something's Going On, which featured "I Know There's Something Going On," a Top 20 hit. In 1985 her duet with B.A. Robertson, "Time," was a minor U.K. hit. Andersson and Ulvaeus co-wrote with British lyricist Tim Rice the London and Broadway musical Chess, from which "One Night in Bangkok" became a #3 hit for Murray Head in 1985. Agnetha "Anna" Fältskog has also released solo albums and had several minor U.K. hits, her "Can't Shake Loose" hit #29 in 1983.
In more recent years, Abba's enduring appeal has manifested itself in the Australian Abba impersonators Bjorn Again, Erasure's #1 U.K. cover EP Abba-esque, and the A*Teens, four Stockholm-based singing and dancing youngsters who deal in pimple-pop updates of Bjorn and Benny's most beloved material. Featuring 22 Abba songs, Mamma Mia! , created by Andersson and Ulvaeus, became a hit musical in London in 1999, reaching the States in 2001.