The British Invasion for me started around 1963 and tapered off around 1967.  Now during this period we would meet and enjoy some of the biggest rock groups in the world, The Beatles, The Rolling Stones, The Dave Clark Five, The Kinks, Spencer Davis and the list goes on. 
During that period I remember some groups that may have had one maybe two hits and disappeared.  We do not hear about them anymore, but maybe somewhere in England, they are playing oldies gigs, as we do here. 
Now I remember the songs and the artists, see if you do.  You may also remember some that I have forgotten, that's very possible because we did not get all of the groups in North America.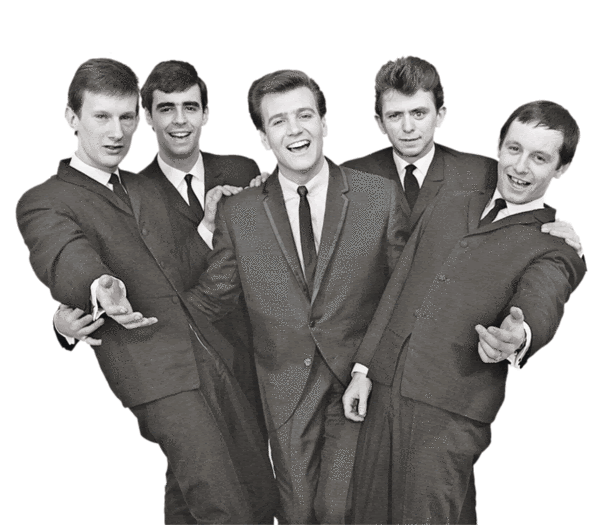 Billy J Kramer and the Dakotas
Bad to me / T.A.M.I. SHOW /
.
Little Children / Shindig /
.
Do you want to know a secret / UK only /
.
 William Howard Ashton, 19 August 1943, Bootle, Merseyside, England. Kramer originally fronted Mersey beat combo the Coasters, but was teamed with the Manchester-based Dakotas – Mike Maxfield (b. 23 February 1944; lead guitar), Robin McDonald (b. 18 July 1943; rhythm guitar), Ray Jones (b. 22 October 1939, Oldham, Lancashire, England, d. 20 January 2000; bass) and Elkie Brooks' older brother Tony Mansfield (b. Anthony Bookbinder, 28 May 1943, Salford, Lancashire, England; drums) – upon signing to Brian Epstein's management agency. Having topped the UK charts with the Beatles' 'Do You Want To Know A Secret' (1963), Kramer's UK chart success was maintained with a run of exclusive John Lennon / Paul McCartney songs, including the chart-topping 'Bad To Me', 'I'll Keep You Satisfied' (number 4) and 'From A Window' (number 10). 'Little Children' (1964), penned by US writers Mort Shuman and John McFarland, gave the group a third number 1 and their first taste of success in the USA, reaching number 7. This was quickly followed by the reissued 'Bad To Me' which also reached the Top 10. Their chart reign ended the following year with the Burt Bacharach -composed 'Trains And Boats And Planes' peaking at number 12 in the UK.
Although subsequent efforts, most notably the lyrical 'Neon City', and a fine version of 'We're Doing Fine' proved effective, Kramer's career was firmly in the descendent. He embarked on a solo career in January 1967, but having failed to find a new audience, sought solace on the cabaret and nostalgia circuit. Kramer had the good looks and had a warm semi-baritone voice that was effective, ultimately his weakness was in being supplied with poor material after the Lennon/McCartney association dried up.
The Swinging Blue Jeans
Videos:
The Hippy Hippy Shake /
.
and live in 1974 /
.
Good Golly Miss Molly / 1964 /
.
You're No Good /
.
Determined to concentrate on rock 'n' roll, several leading figures in Liverpool's skiffle scene founded the Bluegenes in 1958. They were singer and lead guitarist Ray Ennis (26 May 1942, Liverpool, England), bass player Les Braid (b. William Leslie Braid, 15 September 1937, Liverpool, England, d. 31 July 2005, Liverpool, England), drummer Norman Kuhlke (b. 17 June 1942, Liverpool, England) and Paul Moss (b. Liverpool, England; banjo). Moss was replaced by rhythm guitarist Ralph Ellis (b. 8 March 1942) in 1960. This line-up became one of the leading attractions on the Merseyside beat group scene and also played in Hamburg. Following the Beatles' first successes, the Swinging Blue Jeans (as they had been renamed) signed a recording contract with the HMV Records label. The Beatles-sounding 'It's Too Late Now', was a minor hit the following year, but it was the band's third single, 'Hippy Hippy Shake', that provided their biggest success when it reached number 2 in the UK charts and reached the US Top 30. This rasping rendition of a Chan Romero song remains one of the era's finest performances, invoking a power the band never quite recaptured. Their version of 'Good Golly Miss Molly' nonetheless peaked at UK number 11, while the reflective rendition of Betty Everett's soul ballad 'You're No Good' reached number 3. An excellent reading of Dionne Warwick's hit 'Don't Make Me Over' stalled outside the Top 30. It was, however, the quartet's last substantial hit despite a series of highly polished singles, including 'Promise You'll Tell Her' (1964) and 'Crazy 'Bout My Baby' (1965). The Blue Jeans were unfairly dubbed anachronistic. Several personnel changes also ensued, including the induction of two former Escorts, Terry Sylvester (b. 8 January 1947, Liverpool, England) and Mike Gregory, with the former replacing Ellis in 1967 and the latter joining the following year (with Braid moving to the organ to accommodate Gregory on bass). Neither this, nor a brief change of name to Music Motor, made any difference to their fortunes. In 1968, the band was briefly renamed Ray Ennis And The Blue Jeans but when Sylvester was chosen to replace Graham Nash in the Hollies, the remaining members decided to split up.
The revival of interest in 60s music persuaded Ennis to re-form the Swinging Blue Jeans in 1973. He re-recorded 'Hippy Hippy Shake' for an album on Dart Records and continued leading the band on the UK scampi-and-chips revival circuit for the next two decades. A 1992 reissue album included nine previously unreleased tracks; among them, versions of Little Richard's 'Ready Teddy' and 'Three Little Fishes', the novelty song first recorded in 1939 by US band leader Kay Kyser. The Swinging Blue Jeans continue to regularly work the 60s nostalgia circuit with considerable success.
The Nashville Teens
Videos:
Tobacco Road / 1964 Shindig /
.
  and the flip side / I Like it Like That
.
The Nashville Teens were one of a brace of British acts competing for attention in the booming days of the early British Invasion and its early purely English phenomenon, the British beat boom. They were distinguished from most of the others by scoring a memorable and serious hit, "Tobacco Road." This put them on the map internationally (even getting them into an American jukebox movie, Beach Ball, that also featured the Supremes) before they gradually faded away in popularity. The sextet first got together in Weybridge, Surrey, in 1962 with Art Sharp and Ray Phillips on vocals, John Hawken on piano, Pete Shannon on bass, Michael Dunford on guitar, and Roger Groom on drums. In those days, they played basic American rock & roll with perhaps a bit more abandon even then than their competition.
Dunford exited along with Groom in 1963 to be replaced by John Allen and Barry Jenkins, respectively, and a seventh member, vocalist Terry Crow, joined during the group's extended stay in Hamburg, West Germany, in 1963. (Crow and Dunford later co-founded the Plebs, who recorded for Deram Records, and Dunford subsequently became a key member of the second line-up of Renaissance). During their Hamburg engagement, the group got pegged to play as backup band to visiting American rock & roll superstar Jerry Lee Lewis, which resulted in the recording of one of the great live albums of the era, Jerry Lee Lewis Live at the Star Club; they later played gigs backing Bo Diddley, and it was at one of those shows that they were spotted by Mickie Most (then still a performer). After the band was signed to English Decca in 1964, Most became their producer for their debut single, "Tobacco Road," released in the summer of 1964, which charted high on both sides of the Atlantic.
A composition by North Carolina-born songwriter John D. Loudermilk — who was also responsible for "Sittin' in the Balcony" (Eddie Cochran's first single), "Ebony Eyes" by the Everly Brothers, and "A Rose and a Baby Ruth" by George Hamilton IV — "Tobacco Road" was itself inspired by Erskine Caldwell's 1932 novel, which had been transformed into a hit play and a less successful movie depicting dire rural poverty among white southerners. Somehow, the English band managed to sound convincing with their pounding performance, which featured both singers prominently, a bold boogie-woogie attack on the piano by Hawken, and Allen, Shannon, and Jenkins slashing and thumping away on their respective instruments. Their follow-up song, "Google Eye," also written by Loudermilk, reached number ten in England in the fall of 1964 but wasn't noticed too much in America.
The group's rock & roll credentials were as solid as that of any English band, as was demonstrated by the number of gigs that they played backing visiting American stars. What they lacked, however (apart from solid in-house songwriting talent), was one (or more) interesting personalities in their ranks that could be put before the public and a collective personality that could be defined, musically or any other way. Neither Sharp nor Phillips was as compelling or interesting a singer as, say, Denny Laine of their Decca Records rivals the Moody Blues, much less Mick Jagger, John Lennon, Paul McCartney, Eric Burdon, or Roger Daltrey. Additionally, they were musically flexible to a fault, literally, capable of playing boogie-style rock & roll in the best Jerry Lee Lewis style or slightly bluesier and more folk-influenced songs, and even dabbled in doo-wop, but they never had a sound, beyond the crunching attack on "Tobacco Road," that could be identified. In this regard, they were a lot like the Downliners Sect; they loved American rock & roll, but they couldn't do more than pound away at it, and they didn't even have the Sect's offbeat eccentricity to mark them in people's memories.
As early as 1965, more than sheer enthusiasm for the music was needed to attract listeners, and after a few minor Top 40 British entries, the Nashville Teens followed the route of acts like the Swingin' Blue Jeans and the original Moody Blues to smaller venues and less prestigious opening act spots, apart from the occasional chance to back people like Chuck Berry and Carl Perkins when they came to England. As late as 1966 and 1967, the Nashville Teens kept trying, and they came close musically to turning their fortunes around. They could do soulful rockers like "That's My Woman" and make it sound like the real article, almost as compelling as the Beatles doing "You Really Got a Hold on Me," or brisk, rousing upbeat numbers like "I'm Comin' Home" — a piece of good-time music worthy of the Tremeloes — but somehow they lacked that last bit of personality needed to punch through the competition and get the needed airplay to make their stuff into hits. By 1968, not even a hard, slashing cover of Bob Dylan's "All Along the Watchtower" could get them noticed. And by that time, even their name was a liability, in terms of competing with the likes of the Rolling Stones, the Who, et al., whose images had changed vastly since 1965.
Barrie Jenkins exited the group in 1966 to become a member of Eric Burdon and the Animals, and his 1963 predecessor Roger Groom occupied the drummer's spot for the duration. John Hawken was part of the line-up of the original Renaissance, spun out of the psychedelic-oriented half of the Yardbirds' original membership, and later passed through the line-ups of Vinegar Joe and the Strawbs. Ray Phillips kept the group going long enough into the 1970s that it was able to avail itself of the '60s nostalgia boom, appearing regularly in Europe and the U.K. Decca Records, which never really promoted the Nashville Teens (or, for that matter, any of their other rock acts, which is why they had none left apart from the Rolling Stones and the Moody Blues who handled their own affairs), issued a flawed and very poor sounding compilation LP in at the tail-end of the original group's existence, around 1970, that went out of print very quickly, and there was little else to mark their history for the next two decades apart from live shows by the current group. By the early '80's, however, they'd achieved a certain degree of respect among collectors of British invasion material, even in America where only "Tobacco Road" had ever made any impression. A version of the group was working British Invasion nostalgia shows well into the 1990s and one imagines that this will be the case as long as Ray Phillips can take the stage. And in the spring of 2000, Repertoire Records issued the definitive CD compilation of their classic work, in the best sound ever heard.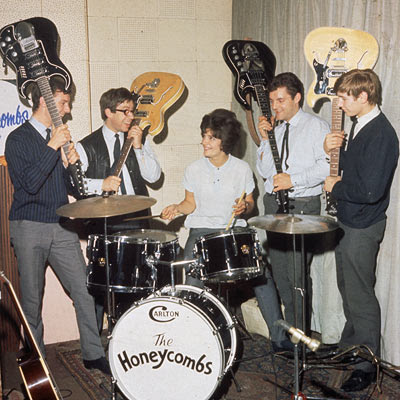 The Honeycombs
Videos:
Have I the Right / 1964 /
.
/ Live on Shindig /
.
I can't stop /
.
Anne Margot Lantree, better known as 
Honey Lantree
, was notable as one of the few female drummers to come out of the British Invasion. Additionally, as a member — and eventually the featured member — of 
the Honeycombs
, she was probably the best known woman drummer in rock & roll of the 1960s, at least in England. 
Lantree
 was not just a visual novelty; she actually could play well, and wasn't a bad singer when called upon in that capacity. The fact that she looked great also helped the band's fortunes immeasurably, and her visual attributes were no accident, either. She was working in a London hair salon managed by 
Martin Murray
 when the latter decided in 1963 to form a rock & roll group. She had played the drums and took to that spot in the band naturally, and her presence gave them a visual edge over almost all of the competition — with her then-fashionable beehive hairdo, she was an asset to any photo of the band and looked great behind the kit, and the fact that she could play completed the picture. The Honeycombs, as they were later christened — which only further enhanced the attention paid to 
Lantree
 — were signed up professionally coming out of the three-night-a-week gig at an East End pub, by songwriter/managers 
Ken Howard
 and 
Alan Blaikley
, and they hit the number one spot in early 1964 with "Have I the Right," produced by the renowned 
Joe Meek
. With an international hit to their credit, 
Lantree
 became the most well-known female drummer in the world from the tours, and the film and television appearances that followed. She also proved her worth as a singer by sharing the lead vocal spot on one of their follow-up hits, "That's the Way"; their second album, 
All Systems Go
, offered her singing a soulful pop ballad, "Something I Got to Tell You," that only confirmed her talents in this area. No document of their live sound has emerged, but to have been heard amid the inevitable waves of screams that teenagers generated at concerts in those days, 
Lantree
's playing must have been immensely powerful. A little later in the group's history, their managers decided to move 
Lantree
 into center stage, with 
Pretty Things
 alumnus 
Viv Prince
 taking over the drumming on tour. Her fortunes declined with those of the group, which lost most of its audience after 1965 as music moved on and popular styles changed, and ended up playing in cabaret during their final phase. 
Honey Lantree
 and 
the Honeycombs
 seemed quaintly archaic by 1967, when they split up following 
Meek
's suicide early that year.
Lantree was, by some accounts, one of the inspirations for a young Karen Carpenter to take up the drums, but that was as far as her influence seemingly went. The only other female drummer that anyone remembers from this period, Maureen Tucker of the Velvet Underground, was far better known in underground circles during the late '60s and 1970s, and Lantree wasn't much more than a footnote in what music histories there were. But a revival of interest in the British Invasion in the early '80's led to a rediscovery of the Honeycombs' music and to her discovery by a new generation of young listeners. Women drummers in all-female bands, such as the Runaways, are a separate matter, but at least one mixed-gender New York band of the early '80's, the Tryfles, seemed to have been inspired by Lantree in their configuration. Their drummer was Ellen O'Neil, whose traditional good looks (balanced by the more stylized appeal of the one other female member of the quartet, guitarist Lesya Karpilov) helped dress up the visual presence of a band that was, by equal parts, otherwise inspired by the Byrds and the Shadows of Knight. Since then, and with the help of various CD reissues of the Honeycombs' work, Lantree has finally gotten her due as a trailblazer in music. She has not participated in work by the revived versions of the Honeycombs.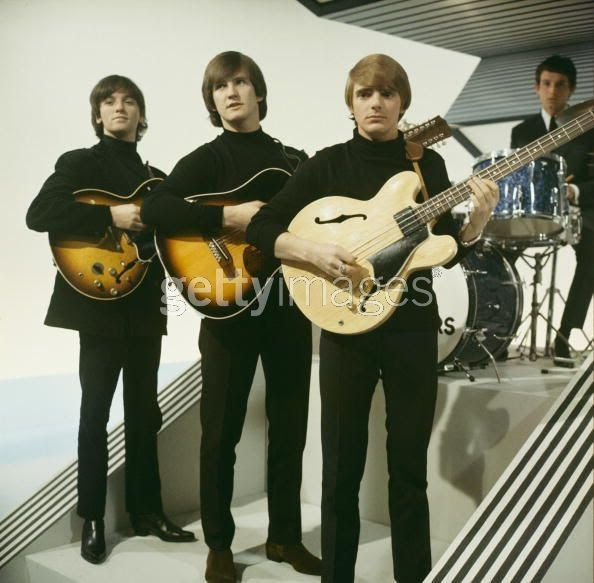 Wayne Fontana and the Mindbenders
Videos:
The Game of Love / Live /
.
Groovy Kind of Love /
.
Wayne Fontana and the Mindbenders first emerged out of apprentice telephone engineer Glyn Geoffrey Ellis' daydreams of becoming a successful pop performer. Rechristening himself Wayne Fontana after Elvis Presley's drummer, DJ Fontana, Fontana's first band was the Jets, a staple on the Manchester circuit through 1961-1962, but one which was doomed to failure.
According to legend, the original Jets broke up when Fontana and bassist Bob Lang alone turned up for the most important audition of their young career, at the famed Oasis club. Hurriedly, Fontana press-ganged a couple of other local musicians, bystanders in the bar, into service — drummer Ric Rothwelland guitarist Eric Stewart. Stewart was already an old hand on the Manchester music scene, having played with local heroes Gerry Lee and the Stagger Lees and Johnny Peters and the Jets (unrelated to Fontana's combo). That was still his regular band that evening at the Oasis, a situation that changed immediately after this ad hoc combo left the stage and was offered a Fontana label contract.
Renaming the band after Dirk Bogard's then-recently released hit movie The Mindbenders (Fontana, of course, was allowed to keep his name!), the quartet's first release, in June 1963, was a cover of one of the aforementioned stage favourites, Fats Domino's "My Girl Josephine," retitled "Hello Josephine." It was not a major hit, peaking at number 46, and two further singles, "For You, For You" (October 1963) and a cover of the Diamonds' "Little Darling'" (February 1964), were even less successful.
But the label did not lose faith. After all, what sort of headlines would "Fontana drop Fontana" make? The band plugged on, and in May 1964, their version of Ben E. King's "Stop Look and Listen" made number 37. Again it was a tiny drop in the ocean, but this time the Mindbenders were able to capitalize upon it. By early fall, they were riding the Top Five with a spellbinding take on Major Lance's masterpiece of incoherence, "Um Um Um Um Um Um."
The Mindbenders' original recording of the song was produced by Rolling Stones manager Andrew Loog Oldham — their label rejected it and insisted on a re-recording, cut with Fontana's own Jack Baverstock. The first recording remains unreleased; the remake soared to number five. An EP titled after the hit followed it to number seven, while the band's eponymous debut album reached number 18. As was standard at this time, the entire LP was recorded in one day, crammed in to a schedule which included their first major British tour, supporting Brenda Lee.
Meanwhile, back in the singles chart, the band was busy confirming their ascendancy with a skilful adaptation of Clint Ballard's "The Game of Love," featuring a moonlighting member of the Spinners folk group on backing vocals and a devastating Stewart guitar solo, played on a Les Paul borrowed from Jimmy Page. It reached number two in Britain and number one in America, despite being not only the Mindbenders' first Stateside release, but also one of the first releases on the American Fontana label.
The band set off for America almost immediately and ran straight into trouble. Visa difficulties had forced the band to cancel a couple of shows at the start of the tour — immigration officials actually demanded statements from both Billboard and Cashbox to prove that the band's Stateside success actually justified their presence here. Then, the moment they stepped off the plane, the Mindbenders were served writs for one million each. They were being sued for not making two gigs in New Jersey.
Thankfully, the threat came to nothing and the remainder of the tour passed off happily. A new version of their debut album, featuring several cuts not on the U.K. album was released, making a respectable number 28; unfortunately, the moment the band's back was turned, their fortunes began to dip. Their next single, "Just a Little Bit Too Late," only reached number 45 in the U.S. (and number 20 in Britain) and when "She Needs Love" halted at number 32 in the U.K., at the same time as their second album, Eric, Rick, Wayne and Bob, stiffed, it appeared as though the Mindbenders' magic had dissipated already.
Certainly Wayne Fontana, the Fontana label, and the Kennedy Street Enterprises management label, thought so. The singer had always entertained visions of eventually graduating to a solo career and, in October 1965, everybody concerned realized the time had come; everybody, that is, aside from the band. They remained in the dark until, midway through a live show, Fontana simply walked off stage, turning to Stewart as he left and saying, "It's all yours."
It was not the first time the band had played on without their frontman; back in March, nervous exhaustion had confined Fontana to bed, midway through a 21-date, twice-nightly British tour with Herman's Hermits. So, with Stewart taking lead vocals, the band finished the set themselves; the audience seemed to enjoy themselves and the decision was made to carry on as a three-piece, which was precisely what their label and management had been planning all along. And, overnight, one fading chart act became two promising newcomers, singer Wayne Fontana and band the Mindbenders
This one will be a brain teaser and you may not remember
Hedgehoppers Anonymous
Good News Week /
.
Known originally as the Trendsetters, this five piece was discovered by producer Jonathan King just as they changed their name to Hedgehoppers, in reference to the fact that the entire band consisted of Royal Air Force pilots (whose reputation for low flying, or "hedge-hopping," was infamous). King suggested the addition of "Anonymous," and set to recording them. "It's Good News Week" was the first result, a catchy and satirical protest song that turned out to be their one hit (it has since been used, in a different version, for the theme song of an Australian TV comedy). Four other singles were released by the group before the final line-up dissolved.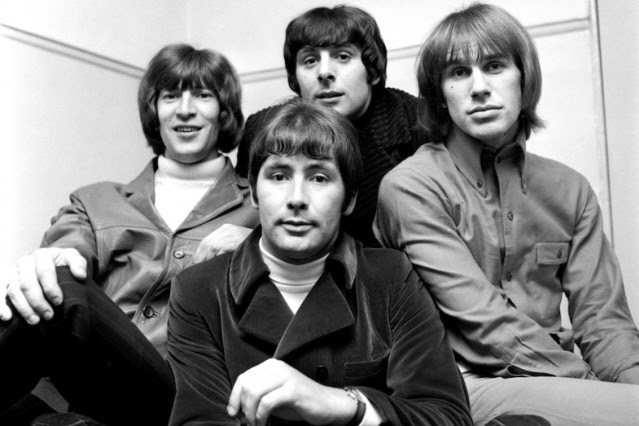 The Troggs
(maybe the most successful of the forgotten groups, mainly because of "Wild Thing")
Videos:
Wild Thing / 1966 / # 1 in the US and Canada /
.
Love is all Around / 1966 /
.
With a Girl Like You / 1967 /
.
Remembered chiefly as proto-punkers who reached the top of the charts with the "caveman rock" of "Wild Thing" (1966), the Troggs were also adept at crafting power pop and ballads. Hearkening back to a somewhat simpler, more basic British Invasion approach as psychedelia began to explode in the late '60s, the group also reached the Top Five with their flower-power ballad "Love Is All Around" in 1968. While more popular in their native England than the U.S., the band also fashioned memorable, insistently riffing hit singles like "With a Girl Like You," "Night of the Long Grass," and the notoriously salacious "I Can't Control Myself" between 1966 and 1968. Paced by Reg Presley's lusting vocals, the group — which composed most of their own material — could crunch with the best of them, but were also capable of quite a bit more range and melodic invention than they've been given credit for.
Hailing from the relatively unknown British town of Andover, the Troggs hooked up with manager/producer Larry Page (who was involved in the Kinks' early affairs) in the mid-'60s. After a flop debut single, they were fortunate enough to come across a demo of Chip Taylor's "Wild Thing" (which had already been unsuccessfully recorded by the Wild Ones). In the hands of the Troggs, "Wild Thing" — with its grungy chords and off-the-wall ocarina solo — became a primeval three-chord monster, famous not only in its original hit Troggs version, but in its psychedelic revamping by Jimi Hendrix, who used it to close his famous set at the 1967 Monterey Pop Festival.
"Wild Thing" made number one in the States, but the Troggs' momentum there was impeded by a strange legal dispute which saw their early records simultaneously released on two different labels. Nor did it help that the band didn't tour the U.S. for a couple of years. As a consequence, the fine follow-up singles "With a Girl Like You" and "I Can't Control Myself" didn't do as well as they might have. In Britain, it was a different story — they were smashes, although "I Can't Control Myself" had such an open-hearted lust that it encountered resistance from conservative radio programmers all over the globe.
The Troggs tempered their image on subsequent ballads, which utilized a sort of pre-"power ballad" approach. These weren't bad, and a few of them were British hits, but they weren't as fine as the initial blast of singles which established the band's image. "Love Is All Around," which restored them to the American Top Ten in 1968, was their finest effort in this vein. It was also their final big hit on either side of the Atlantic.
But the Troggs would keep going for a long, long time. In a sense they were handicapped by their image — they were not intellectuals, certainly, but they weren't dumb either. They wrote most of their songs, and their albums were reasonably accomplished, if hardly up to the level of the Kinks or Traffic, containing some nifty surprises like the gothic ballad "Cousin Jane," or the tongue-in-cheek psychedelia of "Maybe the Madman." By 1970, though, they were struggling. They continued to release a stream of singles, most of which had a straightforward simplicity that was out of step with the progressive rock of the time, all of which flopped, though some were fairly good.
The Troggs' image as lunkheads couldn't have been helped by the notorious Troggs Tapes, a 12-minute studio argument that was captured on tape while the band were unawares. The Spinal Tap-like dialog helped keep their cult alive, though, and as punk gained momentum in the mid-'70's, they gained belated appreciation as an important influence on bands like 
the Ramones
 and (earlier) 
the MC5
. They found enough live work (sometimes on the punk/new wave circuit) to keep going, although their intermittent records generally came to naught. In 1992, they rose to their highest profile in ages when three members of R.E.M., which had covered "Love Is All Around," backed 
the Troggs
 on the comeback album 
Athens Andover
.
She's not there

/ 1964 /

Shindig /
.
.
Tell Her No

/ 1965 Shindig /
.
Time of the Season

/ 1968 /
2005 Rod Argent and Colin Blunstone /
.
Aside from the Beatles and perhaps the Beach Boys, no mid-'60s rock group wrote melodies as gorgeous as those of the Zombies. Dominated by Colin Blunstone's breathy vocals, choral backup harmonies, and Rod Argent's shining jazz- and classical-influenced organ and piano, the band sounded utterly unique for its era. Indeed, the Zombies' material — penned by either Argent or guitarist Chris White, with unexpected shifts from major to minor keys — was perhaps too adventurous for the singles market. To this day, they're known primarily for their three big hit singles, "She's Not There" (1964), "Tell Her No" (1965), and "Time of the Season" (1969). Most listeners remain unaware that the group maintained a remarkably high quality of work for several years.
The Zombies formed in the London suburb of St. Albans in the early '60s, and didn't actually entertain serious professional ambitions until they won a local contest, the prize being an opportunity to record a demo for consideration at major labels. Argent's composition "She's Not There" got them a deal with Decca, and the song ended up being their debut release. It was a remarkably confident and original first-time effort, with a great minor melody and the organ, harmonies, and urgent, almost neurotic vocals that would typify much of their work. It did well enough in Britain (making the Top 20), but did even better in the States, where it went to number two.
In fact, throughout their career, the Zombies would experience a lot more success across the waters than they did at home. In early 1965, another piece of classic British Invasion pop, "Tell Her No," went into the Top Ten. Yet that was as much Top 40 success as the group would have for several years. The tragedy was that throughout 1965 and 1966, the Zombies released a string of equally fine, intricately arranged singles that flopped commercially, at a time in which the chart success of 45s was a lot more important to sustain a band's livelihood than it would be a few years down the road. "Remember When I Loved Her," "I Want You Back Again," "Indication," "She's Coming Home," "Whenever You're Ready," "Gotta Get a Hold of Myself," "I Must Move," "Remember You," "Just Out of Reach," "How We Were Before" — all are lost classics, some relegated to B-sides that went virtually unheard, all showing the group eager to try new ideas and expand its approaches. What's worse, the lack of a big single denied the group opportunities to record albums — only one LP, rushed out to capitalize on the success of "She's Not There," would appear before 1968.
Their failure to achieve more widespread success is a bit mystifying, perhaps explained by a few factors. While undeniably pop-based, their original compositions and arrangements were in some senses too adventurous for the radio. "Indication," for instance, winds down with a lengthy, torturous swirl of bitter organ solos and wordless, windblown vocals; "Remember When I Loved Her," despite its beautiful melody, has downbeat lyrics that are almost morbid; "I Want You Back Again" is arranged like a jazz waltz, with the sorts of sudden stops, tempo shifts, and lengthy minor organ solos found in a lot of their tunes. The Zombies were also, perhaps unfairly, saddled with a somewhat square image; much was made of their formidable scholastic record, and they most definitely did not align themselves with the R&B-based school of British bands, preferring more subtle and tuneful territory.
By 1967, the group hadn't had a hit for quite some time, and reckoned it was time to pack it in. Their Decca contract expired early in the year, and the Zombies signed with CBS for one last album, knowing before the sessions that it was to be their last. A limited budget precluded the use of many session musicians, which actually worked to the Zombies' advantage, as they became among the first to utilize the then-novel Mellotron to emulate strings and horns.
Odessey and Oracle was their only cohesive full-length platter (the first album was largely pasted together from singles and covers). A near-masterpiece of pop/psychedelia, it showed the group reaching new levels of sophistication in composition and performance, finally branching out beyond strictly romantic themes into more varied lyrical territory. The album passed virtually unnoticed in Britain, and was only released in the States after some lobbying from Al Kooper. By that time it was 1968, and the group had split for good.
The Zombies had been defunct for some time when one of the tracks from Odessey, "Time of the Season," was released as a single, almost as an afterthought. It took off in early 1969 to become their biggest hit, but the members resisted temptations to re-form, leading to a couple of bizarre tours in the late '60s by bogus "Zombies" with no relation to the original group. By this time, Rod Argent was already recording as the leader of Argent, which went in a harder rock direction than the Zombies. After a spell as an insurance clerk, Colin Blunstone had some success (more in Britain than America) in the early '70's as a solo vocalist, with material that often amounted to soft rock variations on the Zombies sound.
Much more influential than their commercial success would indicate, echoes of the Zombies' innovations can be heard in the Doors, the Byrds, the Left Banke, the Kinks, and many others. After a long period during which most of their work was out of print, virtually all of their recordings have been restored to availability on CD. Blunstone and Argent reunited for an album, Out of the Shadows, and toured together in 2003 as Blunstone & Argent, playing live shows into 2004 when they began gigging again as the Zombies, with an album and DVD set, Live at the Bloomsbury Theatre, appearing under that name in 2005. To honour the 40th anniversary of Odessey and Oracle, the four surviving original members of the group reunited for a series of three concerts at London's Shepherd's Bush Empire Theatre in March of 2008, with a CD and DVD set of the shows hitting the market later that summer. A new studio album, Breathe Out, Breathe In, attributed to the Zombies featuring Colin Blunstone & Rod Argent, appeared in 2011. The moniker was pared down to the Zombies for 2015's Still Got That Hunger, an album of new tunes from a line up anchored by Argent and Blunstone and featuring guitarist Tom Toomey, bassist Jim Rodford, and drummer Steve Rodford. The Still Got That Hunger line up toured in tandem with the Argent, Blunstone, White, and Grundy edition, presenting a show in which the original members performed Odessey and Oracle in full, followed by a set of new material from the most recent line up.
–o–